18V Lithium Battery Power Cordless Grease Gun
Suction model AE-900 battery-powered grease gun saves user's time on lubricating or maintaining.
Features of Cordless Grease Guns
Equipped with Versatile Two-Speed Design (High Speed Low Pressure/Low Speed High Pressure)—Easily remove the clogs with high pressure and stable output


The clogs will be caused by grease, and low pressure makes it hard to drain it. Users can switch to the low-speed high-pressure mode, which can easily remove clogs. After removing clogs, users can switch to the high-speed low-pressure mode to refill the grease to protect equipment or machinery from heavy repair costs.

High-Pressure 42-Nich Nylon Hose with Anti-Drop Cap—Easily maintain the machinery in hard-to-reach areas


Tube Holder and the grease gun provide a stable, three-point stance to keep the tool upright.

The Strap of the Grease Gun—Prime the grease without holding the gun and hose


Sometimes, users are required to maintain the machinery in the sky. It's hard to hold the grease gun and maintain it with both hands at the same time. In this case, the strap plays a vital role. Users can prime the grease without holding the gun and hose. Only hold the hose onto the grease fitting.
How Long to Charge One Battery of the Grease Gun?
Charging a grease gun battery from 0 to 100% only takes 45-50 minutes, and once fully charged, it can deliver up to 9 cartridges of grease in high-pressure mode. To ensure the battery's safety and longevity, it is designed to automatically cut off once fully charged.
In areas with insufficient lighting, users may struggle to see things clearly. However, the built-in LED light can assist in locating corresponding nipples even in dimly lit environments. Furthermore, to conserve power, the LED will automatically turn off if there is no activity within 10 seconds.
Reasons Why Suction's Cordless Grease Gun Is the Best Choice for Users
The cordless grease gun is designed with two protection devices to enhance its durability and ensure user safety. Additionally, it is also equipped with a safety lock to prevent accidental triggering.
Released Valve (Protection Device Mechanism)


Low Speed: activates pressure up to 8,000psi

High Speed: activates pressure up to 6,000 psi

Power-Off Circuit Protection Device


Low Speed: activates pressure up to 9,500 psi

High Speed: activates pressure up to 9,000 psi
Where Is the Cordless Grease Gun Been Used?
18V lithium battery power cordless grease guns provide a reliable way for users to increase productivity and save money on repairments.
The cordless grease gun can apply to various industries, such as automotive, construction, transportation, bicycle, heavy machine, etc., or any area, including farms, factories, workshops, etc.
For more information or inquiry, please feel free to contact Suction. We will reply you soon.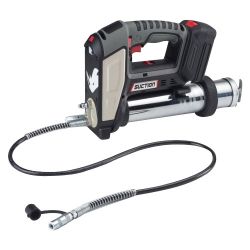 AE-900
Cordless Grease Gun 2-Speed 18V Kit
Cordless Grease Gun 2-Speed 18V Kit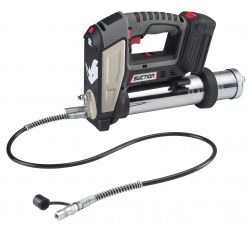 AE-900BM
Cordless Grease Gun 2-Speed 18V Kit
Cordless Grease Gun 2-Speed 18V Kit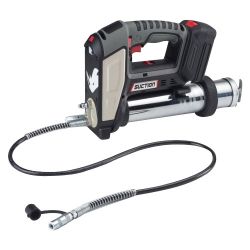 AE-900L
Cordless Grease Gun 2-Speed 18V Kit
Cordless Grease Gun 2-Speed 18V Kit